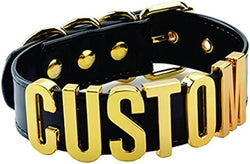 Custom Choker / Armband
SKU: LB22O
Say it loud, say it proud! Wear this as a choker or an armband and customize it with whatever text you'd like. Perfect for parties and loud spaces so you'll never be forgotten. 

Product Details
Vegan Leather 

Size range: 12" - 16" 
Max letters: 7 (5 letters recommended)
1.5" height
Sizes above are based on waist size (A).